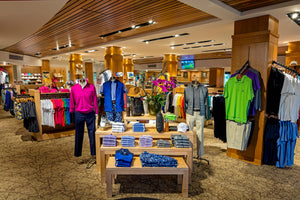 Ko Olina Golf Club received the 2020 Platinum Award by the Association of Golf Merchandisers and is recognized as a Global Top 100 Premier Golf Shop.  The Golf Shop is also recognized locally, ranking 1st in the Best Golf Course category on Honolulu Star-Advertiser's media survey.
Ko Olina Golf Shop provides golfers and non-golfers with an impressive selection of golf and resort apparel, headwear, accessories, gift items and the latest golf equipment combined with excellent service and hospitality.
We carry many of the top brands from TaylorMade to Titleist, and Callaway, just to name a few. All merchandise is professionally selected for quality, craftsmanship, and style. Our apparel selection features the latest from brands such as Adidas, Nike, Polo Ralph Lauren, EP NY and more, for men, women, and children in golf and lifestyle apparel.
Our popular ladybug (registered trademark) logo on apparel and golf accessories sold in the shop are sought after by many. Special orders can be taken for customized products such as golf bags, clubs, shoes, etc. We can create custom tournament tee gifts or something for a special someone.
For more information on special orders or any merchandise carried in the shop, email us or call 808.676.5300, x 245.  
Ko Olina Golf Shop 808.676.5300 | Golf Shop Hours of Operation: 6AM - 6PM Everyday